History of the Collegiate Church, Youghal
The earliest entry in the vestry book of Youghal is a statement of parish accounts for the year 1201. Pope Nicholas IV, in the taxations of 1291, described Youghal as being the richest benefice in Cloyne. The list of clergy can be traced back to this date, and is be found beside the West Door.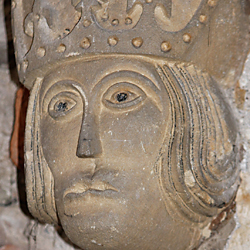 In 1464 St. Mary's was made a Collegiate Church, with the foundation of 'Our Lady's College of Yoghill' by Thomas, Earl of Desmond. It was served by a Warden of eight Fellowes in major orders and eight singing clerks.
During the wars of the late 16th Century the church was occupied by the insurgent forces of Gerald, Earl of Desmond, who, among other acts of desecration, unroofed the beautiful 15th Century Quire.
Sir. Walter Raleigh was Mayor of Youghal in 1588 and lived in what had been the Warden's Residence (now known as Myrtle Grove). In 1649, during the Commonwealth, Oliver Cromwell conducted his campaign from Youghal. There is a folklore tradition that the regicide and destroyer of Ireland delivered a funeral oration from the top of a chest which is still preserved in the church.
From 1734 George Berkely, Bishop and noted philosopher, in common with successive Bishops of Cloyne, served as Warden of the College. They from time to time officiated but appointed curates to act on their behalf. The Bishops were patrons of the Wardenship and the Benefice, the Curacy being made a Rectory in the fullness of time. The Irish Church Act of 1870 made new provision for the appointment of the Rector. The gift of the Wardenship, together with all other rights appertenances and privileges remains with the Bishop.
Among the famous visitors to Youghal was John Wesley who, in 1765, attended Divine Service at the Collegiate Church of Saint Mary the Virgin.
Large-scale works of restoration, including the re-edification of the Chancel, were carried out between 1851 and 1854. A restoration of a remedial nature was carried out between 1970 and 1973. In the late 1980s the North Transept was furnished as a Chapel using the Altar and other artifacts from Templemichael Church. In recent years the Collegiate Church has been given declared a National Monument of Ireland. It is almost unknown for a church building that is in regular use to receive this status from the government. In 2005, work began on the restoration of the long neglected ancient foundation of the Clerks Choral. The College having dwindled received no formal dissolution. The Bishop, Rector, Clergy, Clerks and Parishioners continue the work of the College.